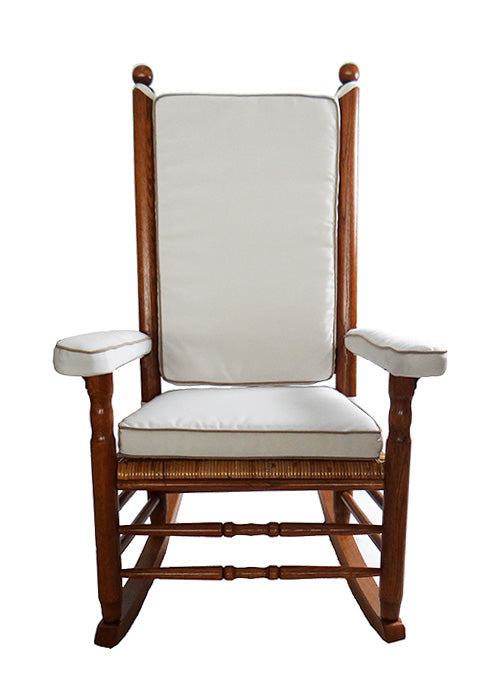 Sunbrella® 4 Piece Cushion Set
Note: This product is made to order and could take 2-4 months for delivery.
Custom 4-PC sets in premium Sunbrella, washable. The seat cushion has two Velcro loops to hold the seat securely in place, with no messy ties! The back cushion has two loops at the top. The seat and back cushions have zippers. Cushions made from Sunbrella can be used indoors or out. Made of sun and stain-resistant Sunbrella 100% acrylic fabric. Fits the 1000 Kennedy Rocker and also the 900 Carolina Porch Rocker.
Knife Edge: are constructed with top and bottom fabric panels that are sewn directly to each other, creating a softer, smoother edge resembling a waterfall when filled. Thinner cushions with waterfall edge construction are also commonly known as Knife Edge cushions.
Boxed Edge: are constructed with top and bottom fabric panels that are connected by an additional strip of fabric between the two panels, making the cushion look more boxed with well-defined edges due to the double seams.
For custom orders, call us at (877) 886-0992 or email info@kennedyrockers.com
Made in the USA.

Returns Policy
If you are not satisfied with your purchase we will refund your money less any shipping charge we paid on your behalf as long as you return the item in the original, reusable packaging, and in original, new condition, within 7 days of receiving your order. Special order or custom orders cannot be returned or refunded. You must contact us phone or e-mail for a Return Authorization Number and return shipping address. Rockers must be returned to us in a like new, resell-able condition to avoid a restocking fee of $50 per chair. Return shipping charges are your responsibility. Our products are offered with included shipping, so please note if you return a product our actual outbound shipping cost will be deducted from your return refund. Our standard return policy also applies if you refuse delivery of your order, or cancel it after the order has shipped. You may wish to insure the your return against damage. Once your return is received and the condition of the returned item is inspected and verified we will refund your purchase price to the credit card that was used at the time of purchase, less any outbound or return shipping charges. No returns will be accepted without a Return Authorization Number.
Shipping
We ship chairs and cushions to any of the 48 contiguous states. We do not currently ship internationally. Once your order is prepared, packed, and labeled for shipping, you will receive an email notification with your shipment confirmation and tracking number.