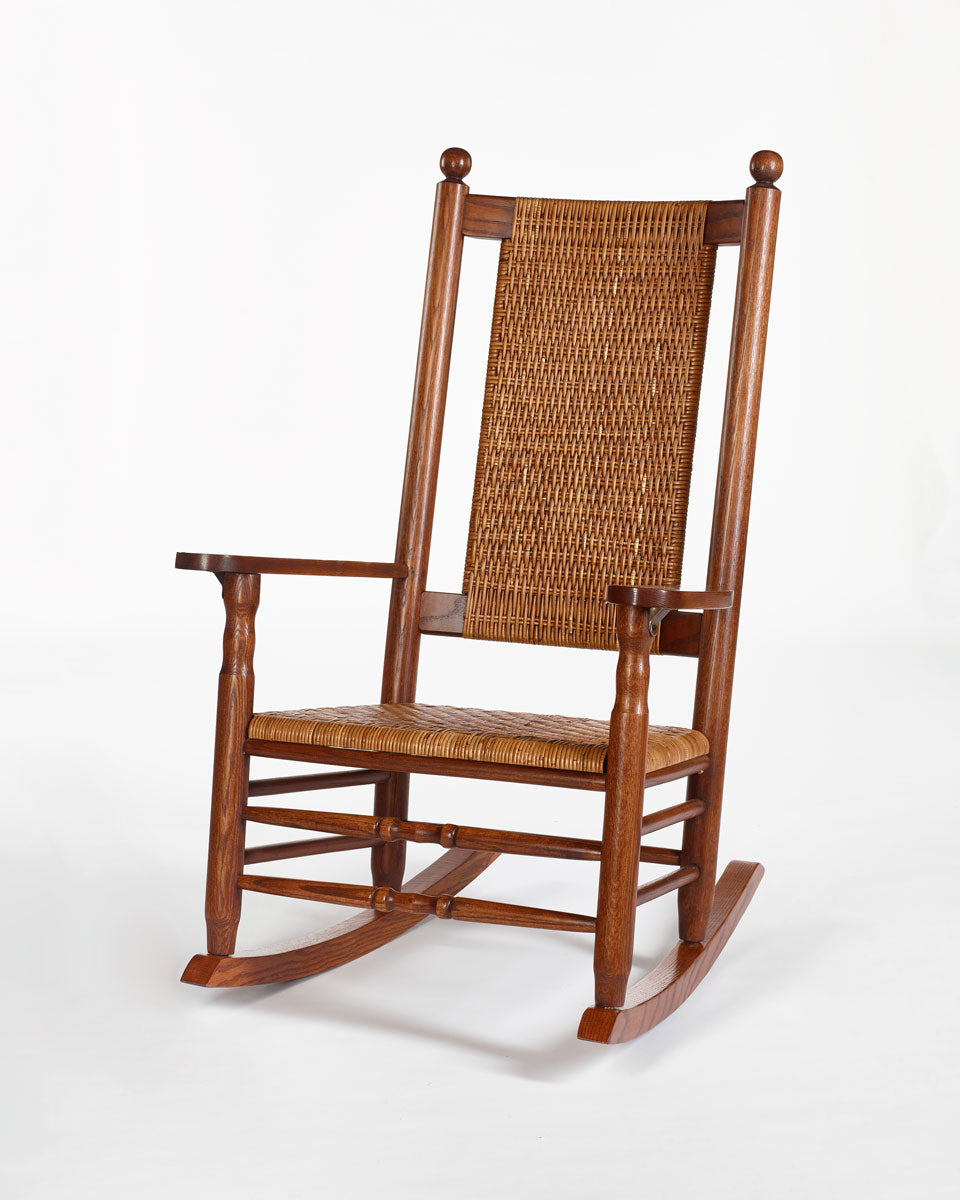 The Authentic Kennedy Rocker
This good old-fashioned southern rocker has become famously known as the Kennedy Rocker because President Kennedy so loved his rocker and took it with him everywhere. You can read more on the history of this comfortable rocker by clicking here.
The secret of this chair's comfort lies in the shrewdly planned steam-bent curve of the back post, which sweep in to give firm support to the sitter's back and yet carries his weight down to the exact point on the rockers where they contact the floor. This makes for a perfect, restful balance. Many physicians recognize the healthful influence of rocking chair sitting as an aid to circulation and as a reliever of tension. The wide arms make this rocker a perfect chair for nursing and feeding babies.
The rocker is shaped, steam-bent, and assembled while still green to a tried and true design. There are no unnecessary frills - every part is functional - even the knobs atop the back posts have their use as a place to tie a back cushion. The seat and back offer firmness and natural spring through the use of tightly woven Indonesian cane. The woven cane seat is replaceable should anything ever happen to damage it. This rocker is recommended only for indoor use because of the cane seat and back.
NOTE: These well thought of rockers are crafted in small batches by proud artisans. Lead time can vary from approximately four weeks to eight weeks and may sometimes take longer. Occasionally, a delay in materials can affect production. We will do our best to keep you informed. 
Take a look at our large selection of indoor, outdoor, and special order cushion sets for this rocker!
Returns Policy
If you are not satisfied with your purchase we will refund your money less any shipping charge we paid on your behalf as long as you return the item in the original, reusable packaging, and in original, new condition, within 7 days of receiving your order. Special order or custom orders cannot be returned or refunded. You must contact us phone or e-mail for a Return Authorization Number and return shipping address. Rockers must be returned to us in a like new, resell-able condition to avoid a restocking fee of $50 per chair. Return shipping charges are your responsibility. Our products are offered with included shipping, so please note if you return a product our actual outbound shipping cost will be deducted from your return refund. Our standard return policy also applies if you refuse delivery of your order, or cancel it after the order has shipped. You may wish to insure the your return against damage. Once your return is received and the condition of the returned item is inspected and verified we will refund your purchase price to the credit card that was used at the time of purchase, less any outbound or return shipping charges. No returns will be accepted without a Return Authorization Number.
Shipping
We ship chairs and cushions to any of the 48 contiguous states. We do not currently ship internationally. Once your order is prepared, packed, and labeled for shipping, you will receive an email notification with your shipment confirmation and tracking number.