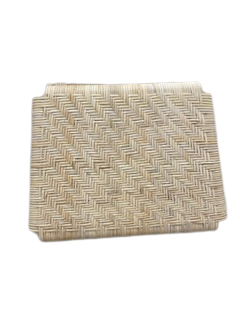 Unfinished Replacement Cane Seat for Kennedy Rocker
Note: Seats are handmade and may not be available FOR 3 TO 4 MONTHS. If you would prefer to be put on a waiting list and contacted when available, please email your information.  Also, please check your seat dimension at the very back from side to side.  Around 16", you have an older seat; 16 1/2" newer.  Let us know which so we can be sure to send the correct size.
Your Kennedy rocker's woven cane seat should last for many years of use, but should something happen to it, don't worry, it can be replaced. We have replacement cane seats available for your Kennedy Rocker (Model 1000). To remove your rocker seat you will need a Phillips screwdriver to remove and replace the four screws that fasten the seat to the rocker.
Your seat will arrive to you unfinished.  If your rocker has a Natural Oak finish, all you may need to do is apply a polyurethane topcoat to seal the cane. If your rocker is older and has darkened some you may want to apply a light stain first. Polyurethane interior protective topcoats are available in matte, semi‐gloss, or gloss, in wipe‐on types,
water or oil‐based.

If your rocker has a Village Oak, or Dark Harvest Oak finish you will probably want to buy some type of wood stain like Minwax (http://www.minwax.com), or Cabot (http://www.cabotstain.com). Both of these brands have helpful information on their websites. Some products are a stain and top coat all in one.
Begin by applying a small amount of your stain to the bottom of the new seat or an inconspicuous part of the back to test the color. You may want to wipe some excess off with a lint free rag so it doesn't soak in too much or stain darker than you like. After this test area dries you will be able to tell how much color has soaked in and decide whether this is the color you want.

After the stain dries finish by applying a topcoat to seal your cane.
______________________________________________________________________________________________
                             MANUFACTURERS CANE CARE INSTRUCTIONS
Cane is a natural fiber that will last for years with proper care. To keep your seat and back from becoming brittle we recommend a light misting monthly and more especially if your rocker is kept near a heating vent.

Should you find a loose or broken piece, use a small amount of wood glue to repair. Pressure will needto be applied with a heavy object or clamp to help the cane lay flat.
Returns Policy
If you are not satisfied with your purchase we will refund your money less any shipping charge we paid on your behalf as long as you return the item in the original, reusable packaging, and in original, new condition, within 7 days of receiving your order. Special order or custom orders cannot be returned or refunded. You must contact us phone or e-mail for a Return Authorization Number and return shipping address. Rockers must be returned to us in a like new, resell-able condition to avoid a restocking fee of $50 per chair. Return shipping charges are your responsibility. Our products are offered with included shipping, so please note if you return a product our actual outbound shipping cost will be deducted from your return refund. Our standard return policy also applies if you refuse delivery of your order, or cancel it after the order has shipped. You may wish to insure the your return against damage. Once your return is received and the condition of the returned item is inspected and verified we will refund your purchase price to the credit card that was used at the time of purchase, less any outbound or return shipping charges. No returns will be accepted without a Return Authorization Number.
Shipping
We ship chairs and cushions to any of the 48 contiguous states. We do not currently ship internationally. Once your order is prepared, packed, and labeled for shipping, you will receive an email notification with your shipment confirmation and tracking number.